District 2 CRNA Highlight: Amene Ampanpour
By Kristopher Bosque
Amene was born in Tehran, Iran not long before the revolution. She left Iran with her family and immigrated to the United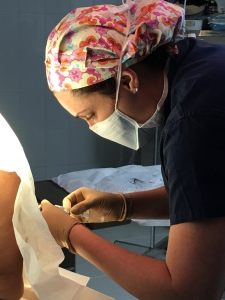 States as refugees after the war started with Iraq and the situation in Iran deteriorated. Her father passed away when she was 11 years old and she was raised by a single mother. During her senior year of high school, she was hit by a car and spent the larger part of her last year of high school either in a hospital or recovering at home.
She managed to go to college, beginning at a local community college and then transferring to George Mason University where she earned a BSN in 1998. Amene worked for the next eight years in critical care nursing, mostly the ER, which she loved. She eventually went back to school and attended Georgetown University where she received her master's degree in nurse anesthesia in 2008.  Since then, she has been working full time as a CRNA at Reston Hospital Center. Amene is married and has two amazing kids.
In 2015, Amene was asked to volunteer as a CRNA on a surgical mission trip to Comayagua, Honduras with Virginia Hospital Medical Brigade. She had heard about the mission trip at Georgetown and was very excited to go. The mission is a nonprofit, non-religious group that serves the extremely impoverished nation of Honduras, mainly in the central region of Comayagua. It began after Hurricane Andrew ravished the small Central American nation. The brigade has multiple projects, which include a clean water and rural village project. There is a rehab team, and an ophthalmology clinic that provides glasses to those in need. Amene participates in the annual surgical mission trip every November.
During the mission trip, surgeries are performed in two locations. One is a free-standing surgery center and clinic run by Jesuit priests (San Benito Jose). They serve only the poorest of the poor. At this location the brigade does strabismus repair surgery, mainly on children. It also does cataract surgery, in which the American surgeons train fellows from the Honduras school of Ophthalmology. Lastly, they do urological procedures, mainly TURPS and defect repairs in small children.
The second location is in the inner city at a severely understaffed and underfunded public hospital (Santa Teresa) where the brigade performs general and gynecological surgeries. At this location, the brigade can perform laparoscopic surgeries thanks to generous donors. The brigade is extremely active in trying to help very poor women with their gynecological needs. They do all kinds of surgery including hysterectomies, slings, fistula repairs and even provides women giving birth at the hospital an option to have tubal ligations if they desire. On average, the brigade will perform 150 to 175 surgeries at the two locations combined during the week they attend. The patients are picked by Honduran medical doctors at clinics throughout the year before the brigade arrives. Then the surgeons will make the final decisions.
In 2018, after being on the trip for three years, Amene took over as anesthesia team leader. Throughout the year leading up to the mission trip she spends many hours preparing. With fundraising through the brigade, she orders and collects all of the anesthesia supplies and medications needed for the trip. In August of each year, a container is sent carrying all the supplies. Amene carefully packs all the drugs and they are hand carried by volunteers through customs. Amene says that her hardest task is recruiting personnel for the trip.
Amene is always looking for a few good nurse anesthetists or anesthesiologists who can work independently and are flexible. Amene also says their patients are the most appreciative, kindest people you'll meet. Every year she goes, she remembers how much she loves what she does, both as a human and as an anesthetist, especially when see the tears on her patients faces or hears their words of thanks. As hard as the work is, it is worth every second. What she gains every year from her patients is 100% more than what she gives back to them, Amene says.
If you are interested in volunteering with Amene or learning more about the program, please contact her at amenea1@hotmail.com.
---